Microwave Power Sources
CoberMuegge LLC supplies a line of standard microwave generators, power supplies and magnetron heads for operation at 915 and 2450MHz.

Our low power (6KW and less) 2450MHz generators feature 19" rack-mountable power supplies with remote magnetron heads. High power 2450MHz generators are available in a 19" rack-mount configuration or as a single cabinet housing all of the components, including isolators and directional couplers, in a common enclosure.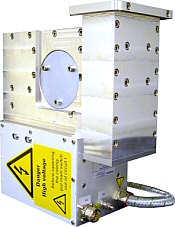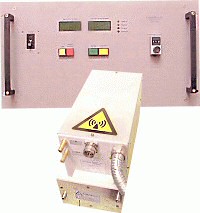 CoberMuegge LLC 915MHz microwave generators are all available in either 19" rack mountable configurations or as single enclosure systems.
CoberMuegge LLC also offers custom generators for OEM's and replacement generators for customers already utilizing Muegge manufactured generators. Custom layouts, power levels, input voltages and control packages are designed and built by our group. We have total control over all of our offerings because we make what we sell.