MICROWAVE GENERATORS
CoberMuegge LLC supplies a line
of standard microwave generators,
power supplies and magnetron heads
for operation at 915MHz, 2.45GHz
and 5.8GHz.
Standard microwave power sources feature 19" rack mountable power supplies with remote magnetron heads. High power systems feature stand-alone microwave power supplies with integral or remote magnetron heads. Custom configurations are also available.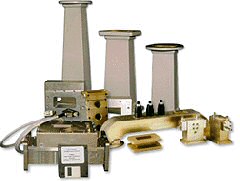 CoberMuegge LLC also supplies measurement devices, plasma applicators and systems. Impedance/network analyzers as well as high power impedance analyzers, power meters and microwave leakage detectors round out our product offering.
Please review our offering of standard products. Chances are that you will find the microwave generator or waveguide components you are looking for.

If you do not find exactly what you need please call or e-mail and we will quote on your custom requirement.
Industrial waveguide components – isolators, circulators, dummy loads, manual and automatic tuners, directional couplers, adjustable shorts and magnetrons are also available at all power levels and in all industrial waveguide sizes.

.